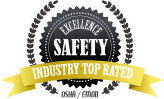 Introduction
Impact Contractors DBA "Impact Demolition" is a demolition contractor headquartered in Salt Lake City Utah with the equipment, skilled personnel and experience to handle most any size demolition or site clearing project.
Experience, management commitment to safety and skilled employees sets our company apart from other demolition contractors. Impacts owner began his demolition career in 1980 and it continues today with the additional expertise of many key employees. Impact has completed demolition jobs from downtown high-rises to minesites, hospitals, schools, malls, smokestacks, silos and military facilities.
Impact has a long standing tradition of providing quality demolition services to the customer while keeping safety and cost savings a top priority. This is evidenced by the clients who continually turn to Impact for their demolition needs.
Impact is founded on valued principles. Impact personnel are dedicated and will work whole-heartedly toward delivering the highest quality and best value to the customer.
Impact understands and recognizes that the key to continued success is the satisfaction of each client organization. Every effort is made to exceed clients' expectations. Impact is determined to build and maintain long-term professional relationships based on mutual trust, quality performance and customer satisfaction.
Because of Impact personnel's extensive experience and our refined internal organization, which places a premium on responsiveness and quality, our people will hit the ground running.

Construction Recycling Inc. is a sister company that provides a competitive place to recycle concrete and asphalt material and also provides a high quality 100% fractured structural fill, road base and multiple sized gravels from these recycled materials for our projects.

Impact Demolition LTD is a Canadian subsidiary of Impact Contractors. This division specializes in mining demolition projects in Canada and has succesfully completed the demolition of the Con Mine powerhouse, mill, roaster and blend plant. Additionally, they have proven experience in perfoming difficult demolitions located on hazardous minesites such as the Pinchi Lake mercury mine.

IF YOU WOULD LIKE ANY OTHER INFORMATION CALL US AT 801-973-7777